Memorial SIte - State of play Nov 2007
Those who were not able to attend the 8th November meeting at Battersea will be surprised to learn that there have been major developments in the memorial project.
Less than two days before the meeting the DCMS (Department for culture, media and sport) responded to the growing pressure for an alternative site to Battersea Park and offered space in the Victoria Tower Gardens. For those who are interested, Google Earth gives a spectacular eye view of this alternative location.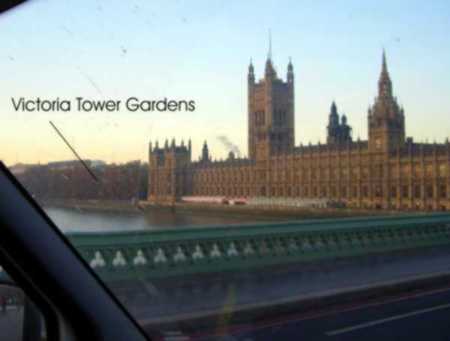 Victoria Tower Gardens, view from Westminster Bridge

It is a triangle surrounded by trees, between the Houses of Parliament, Millbank, Lambeth Bridge and the Thames. It contains some important sculpture and monuments, including a well-known Rodin (The Burghers of Calais) and the Buxton Memorial Fountain commemorating the abolishment of slavery in the UK.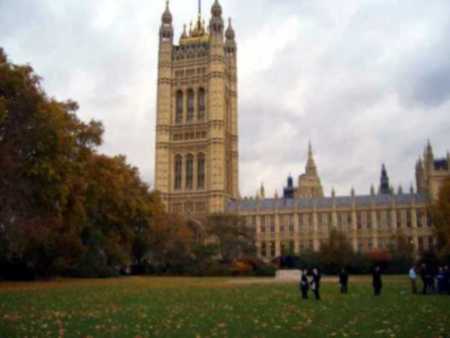 Victoria Tower Gardens, looking east

What does this mean for the memorial project? Well, for one thing, it is a very different sort of space compared to the English Garden in Battersea Park. A number of us went to have a look at it and it was striking how many people immediately appreciated that the different setting meant a different kind of memorial, and that started us all focussing on who and what the memorial was for.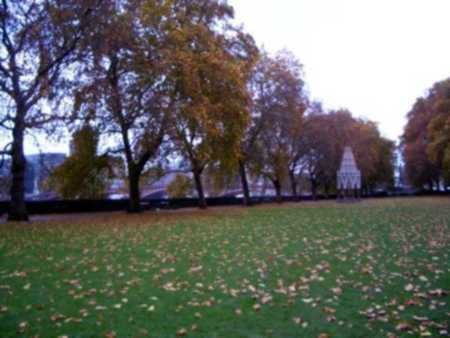 Victoria Tower Gardens, looking west
What is proposed in Battersea Park is a more or less private space for families of the tsunami victims to come and contemplate in peace and tranquillity. A memorial in the Victoria Tower Gardens would be not only for the families of the bereaved but would also speak for the wider community touched by the tsunami including those overseas visitors who would find their way there. Because of the nature of the location a memorial there would also be seen by a much larger section of the general population, including our administrators. It would be fair to say that most of us who saw the new site regretted the loss of intimacy, but felt that the loss was not perhaps so serious compared to the potential of reaching out to a greater number of people. The families have already created their own private spaces, and so the memorial is, in a sense, not primarily for them – they will never forget (I haven't expressed that very well but I hope you can work out what I mean).
It would have to be an ambitious piece of work – we would, after all, be trying to compete with Rodin. Presumably if the DCMS can come up with Victoria Tower Gardens, they can also produce other sites so it is possible the choice will widen further. Nevertheless we could certainly do something with VTG
There was general agreement that the vote for Battersea was based on a false premise, and that next time we would have to reach the wider tsunami community for a genuine mandate.
So, in a way, we are back at the start but not the original square one. The Battersea Park option is not dead, but is looking unwell. VTG has a high visibility, but is challenging.
Robert Whittle 18th Nov 2007
---
Comments added to this piece:
Dear Robert (Brewster) and everyone,
Thank you for all your efforts and for organising the meeting on the 8th of November. The old English Garden is indeed pretty and the proposed white flowers/plants would improve the garden itself. But having said that I do not feel that the" Garden" at Battersea Park, tucked away, is a suitable venue for a Memorial of a disaster of such magnitude. On the other hand I don't think you could find a more suitable or prestigious site than Victoria Gardens, adjacent to the Houses of Parliament for what was an International tragedy. Obviously it all depends on what sort of memorial would be allowed. I noticed that at the far end of the garden was a rather run-down playground with an old plastic slide and a few swings, well past their sell by date. Perhaps, this could be updated, with the memorial + flowers and benches ? If allowed I would recommend a competition for the best design/sculpture ? Anyway these are our thoughts and we would be interested in other points of view. Kind regards to all, Andy and Mireille
Hello Robert
I read your article on the website and I think it covers things well. The issue of having different purposes for the 2 sites comes across clearly and that is really the thing to look at when choosing the final site. I agree wholeheartedly with the view expressed by Mireille and Andy.Thank you for your eloquent expression. Warm regards Tal
Hello Everyone
Paul and I just want to echo Tal's sentiments. We feel quite strongly about this. Speaking to friends and family they feel the same and have offered to support our views by writing to the DCMS if required. With kind regards to all. Yvette Bent